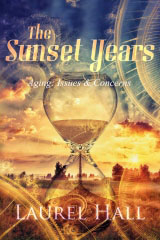 Sunset Years
"The Sunset Years" is the story of a group of medical and legal professionals who gather weekly in a continuing education class to study the problems that face today's elderly. Using an upbeat, positive approach to the questions that always pop up when "old age" is the topic of conversation, the book discusses many issues on aging, from Alzheimer's disease to elder abuse, and more. The reader is lifted above the noise to a vantage point where he can see from wherever he stands in life, the problems associated with growing old.
what people are saying
I  have finished reading The Sunset Years. The information it contained was well-presented and easy for me to understand. As a senior citizen, I have several friends who are struggling with family members with dementia and Alzheimer's. I now have a better understanding of them. The section on abuse was also helpful in sensitizing me to the different types of abuse. And, the references listed seem to be especially helpful to anyone seeking more information on the subjects covered in the book. Overall, good job on a difficult subject for most of us.
Susan M. Shelley