Statistics
National Child Abuse Statistics from the American Academy of Child and Adolescent Psychiatry
Up to 80,000 cases of child sexual abuse cases have been reported in one year in this country.
Statistics from the American Academy of Experts in Traumatic Stress:
Over 2 million children are brutally beaten or sexually abused in this country every year. Between 3 and 5 thousand of these children die.
In NY alone, approximately 200 bodies of sexually and physically abused children are found each year and never identified.
RAINN: The nation's largest anti-sexual violence organization.One of "America's 100 Best Charities" –Worth Magazine, gives the following abuse statistics.
About Victims: 44% are under age 18! 80% are under age 30
Sexual Assault: Ever 2 minutes, someone in the United States is sexually assaulted. Each year, there are about 207,754 victims of sexual assault.
Reporting: 54% of sexual assaults are not reported to police. 97% of all rapists never spend a day in jail.
Offenders: Approximately 2/3 of assaults are committed by someone known to the victim. 38% of rapists are a friend or acquaintance.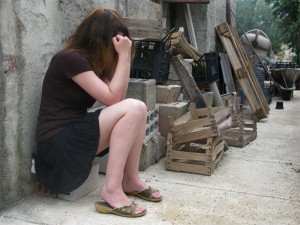 …Her anguish was
insurmountable.
She became a loner,
a black hole
of emotional need.
No one understood her.
How could they?
It was her secret
which she could share
with no one.
 Stolen Childhood, Part II
from Expressions by Laurel Hall ©2012