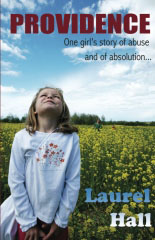 Providence
At age four, Emma was sexually abused by neighborhood boys-abuse that continued for four years. With no one to tell, not even her parents, her life was filled with pain, shame and misery. She handled her emotional anguish the only way she knew how: by making plenty of mistakes, giving in to anger, suffering mental illness and anxiety attacks, and living a life devoid of joy or self-love. This is her story. A story of survival, and of overcoming emotional, physical and sexual abuse to find happiness in marriage, family and God. She hopes her story will help others who have suffered similar abuse find peace.
What people are saying:
From Mel Collins: A Very Strong Woman, January 13, 2012
I am in awe of Emma. To go through what she went through as a child and to come through it so strong and yet caring is unbelievable. Her husband Jon is nothing short of amazing also. Even though the cards were stacked against them from the very beginning they persevered and they fought for their marriage, and their sanity. The struggles they endured along the way were enough to destroy most people. No matter what life threw at them they fought the storms, and eventually won. My hats off to you both! For anyone that thinks that the challenges in marriage, or life, are too great to overcome, they should read this inspiring book of survival and healing.
By Karen West Compelling and heart wrenching!, January 6, 2012
Laurel Hall has written a compelling, heart wrenching story of despair, lost of innocence and hope. I enjoyed the way that the story unfolded as Emma and Jon discuss their marriage of 50 + years and the fact that Emma didn't love Jon at the beginning and had been pushed to marry him by her parents. As Emma and Jon's conversation continued, we are given a glimpse of her despair in flashbacks. I have to disagree with the other reviewers, I do think that all aspects of her back story contributed to her emotional state and were an important part of her emotional being.
All in all, an excellent debut novel and I think that Ms. Hall will continue to improve on her talent in the future. This was an enjoyable read and one that was told to a satisfactory conclusion.